Beetroot 4620mg (Organic)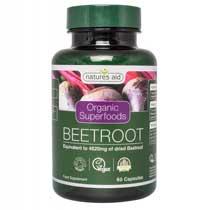 Equivalent to 4620mg of dried root.
Packing / Suggested Retail Price
60 vcaps (code:139320) - 13,73€
Description

Each Natures Aid Organic Beetroot capsule is equivalent to 4620mg of dried root. Beetroot is one of the many cultivated varieties of beets (Beta vulgaris) - it first became popular in Roman times for its apparent health benefits. This dark red vegetable - which has been a staple salad ingredient for years - has provoked a great deal of excitement and research in recent years for its potential benefits.
Nutrition Info

2 Capsules provide:

| Nutritional Information | Amount |
| --- | --- |
| Beetroot extract (beta vulgaris)  | 1400mg  |
| equivalent to dried root | 9240mg  |
Ingredients

Organic Beetroot Prep (Beetroot Extract, Maltodextrin), Vegetable Capsule Shell (Hydroxypropylmethylcellulose)*.

* Non-Organic Material.
Dosage

Take 2 capsules per day with food. Do not exceed the recommended intake.
Allergens