GlucoSlim (Glucomannan) 500mg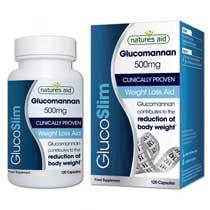 Clinically proven weight-loss aid.
Packing / Suggested Retail Price
120 Vcaps (code:141040) - 29,38€
Description

Natures Aid GlucoSlim is a clinically proven weight-loss aid containing Glucomannan, which contributes to the reduction of body weight. Glucomannan is a fibre which has been extracted form a plant called Amorphophallus Konjac. It has no calories and will pass through your system safely and be eliminated when you go to the toilet. The beneficial results of Glucomannan on weight loss, have been noted on an intake of 3000mg per day. For those on a calorie restricted weight loss diet this would mean taking 2 x 500mg tablets with 1-2 glasses of water half an hour before each meal, every day.
Nutrition Info

Per 6 Capsules:

| Nutritional Information | Amount | NRV |
| --- | --- | --- |
| Glucomannan | 3000mg | * |
Ingredients

Cellulose, Microcrystalline Cellulose
Dosage

Take 2 capsules, 30 minutes before each of your 3 daily meals, with 1-2 glasses of water.
Do not exceed the recommended intake.

Caution: Choking hazard if not taken with water.

Do not take if you have difficulty swallowing.
Allergens