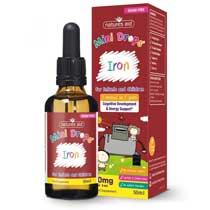 To support healthy energy production and cognitive development in children.
Packing / Suggested Retail Price
50ml (code:147110) - 13,78€
Description

Babies are born with iron stored in their bodies, but a steady amount of additional iron is required, particularly between 7-12 months of age.  Babies who are breast fed, or not fed an iron enriched formula, are at risk of low iron between these ages.  Infants and children following a largely plant based diet are similarly at risk.

Iron supports normal red blood cell formation and haemoglobin production.  Iron is also important for normal cognitive development in children, and supports healthy energy production.

How could Mini Drops Iron help your child?

Mini Drops Iron provides 10mg Iron per daily dose, alongside Vitamin B12, Folic Acid and Vitamin C.

B12 and Folic Acid also support the healthy formation of red blood cells and reduce tiredness and fatigue, so they work well alongside Iron. Vitamin C is also included, to support normal iron absorption.  

Mini Drops Iron is unflavoured, so can be easily added to water or juice. This product is also 100% sugar free, and free from artificial colours and flavours.
Nutrition Info

Per 1ml

| Nutritional Information | Amount | NRV |
| --- | --- | --- |
| Iron | 10mg | 71 |
| Vitamin C | 15mg | 18.7 |
| Folic Acid | 100ug | 50 |
| Vitamin B12 | 1ug | 40 |

*NRV = Nutrient Reference Values
Ingredients

Water, Glycerine, Citric acid, Preservative (Potassium Sorbate).
Dosage

Infants aged 3-6 months – take half a ml per day added to juice or water. Infants and children aged 7 months to 5 years – take 1ml per day, added to juice or water. Do not exceed the suggested dose.
Allergens