Calcium, Magnesium & Vitamin D3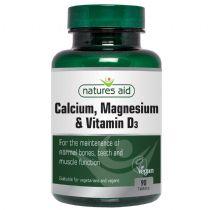 For the maintenance of normal bones, teeth and muscle function
Packing / Suggested Retail Price
90 tabs (code:19030) - 12€
Description

Natures Aid® Calcium, Magnesium and Vitamin D3 tablets help maintain normal function of bones, teeth and muscles.

Calcium, Magnesium and Vitamin D are needed for the maintenance of normal -
Calcium, Magnesium and Vitamin D contribute to normal muscle function
Calcium and Magnesium contribute to normal energy-yielding metabolism
Calcium and Magnesium have a role in the process of cell division and specialisation
Calcium contributes to -

normal blood clotting
normal neurotransmission
the normal function of digestive enzymes

Magnesium contributes to -

a reduction of tiredness and fatigue
electrolyte balance
normal functioning of the nervous system
normal protein synthesis
psychological function

Vitamin D contributes to -

normal absorption/utilisation of calcium and phosphorus
to normal blood calcium levels
the normal function of the immune system

Vitamin D has a role in the process of cell division

Suitable for vegetarians and vegans
Nutrition Info

Per 2 tablets

Nutritional Information
Amount
%NRV

Vitamin D

Calcium

Magnesium

20µg

800mg

400mg

400

100

107

NRV = Nutrient Reference Values
Ingredients

Calcium Carbonate Prep (Calcium Carbonate, Maltodextrin), Microcrystalline Cellulose, Magnesium Oxide, Calcium Citrate, Anticaking Agent (Silicon Dioxide), Tablet Coating (Hydroxypropylmethylcellulose), Magnesium Citrate, Anticaking Agent (Vegetable source Magnesium Stearate), Sodium Carboxymethylcellulose, Vitamin D3 prep (Cholecalciferol Maltodextrin, Corn Starch, Medium Chain Triglycerides, Silicon Dioxide, D-Alpha Tocopherol, Ascorbyl Plamitate).
Dosage

Take 2 tablets per day with food.

Do not exceed the recommended intake.
Allergens