Vitamin D3 2500iu (62.5mcg) 50ml Liquid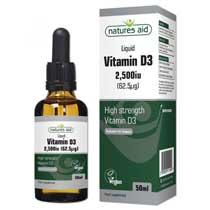 Vegan Vitamin D3 Liquid, sourced from Lichen.
Packing / Suggested Retail Price
50ml (code:141110) - 20,74€
Description

Natures Aid Vitamin D3 contributes to the maintenance of normal bones, teeth, muscle function.

Vitamin D plays a role in the process of cell division and is helpful in the normal absorption and utilisation of calcium and phosphorus.

Vitamin D helps to maintain normal blood calcium levels.

Vitamin D helps to reduce the risk of falling associated with postural instability and muscle weakness. Falling is a risk factor for bone fractures among men and women 60 years of age and older.

Natures Aid Liquid Vitamin D3 is sourced from Lichen and is suitable for vegetarians and vegans
Nutrition Info

Per 1ml:

| Nutritional Information | Amount | NRV |
| --- | --- | --- |
| Vitamin D3 2500iu (62.5µg) | 1ml | 1250 |
Ingredients

Medium Chain Triglycerides (Fractionated Coconut Oil).
Dosage

Take 1ml per day. Do not exceed the recommended intake
Allergens