Pro-DEFEND® (Immune Health)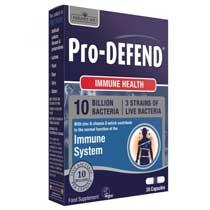 Combines 10 billion good bacteria with zinc & vitamin D to support the immune system.
Packing / Suggested Retail Price
30 caps (code:146610) - 19,92€
Description

Natures Aid Pro-DEFEND is a unique combination of scientifically researched good bacteria with Vitamin B12, Folic acid, Zinc, Copper and Vitamin D to support your immune system.* 

WHO IS IT FOR?

Pro-DEFEND can be used by adults and children from the age of ten to support immune health.*

WHICH GOOD BACTERIA?

Pro-DEFEND utilises a unique blend of three bacteria:  Lactobacillus acidophilus, Lactobacillus plantarum and Bifidobacteria animalis subsp. lactis.   This specific blend has been used in human clinical trials and shown to have a synergistic action. The beneficial bacteria used by Natures Aid are shown to be bile and gastric acid resistant and have proven colonisation of the microbiome after oral supplementation.

SUPPORTIVE NUTRIENTS:

The supportive nutrients chosen for Pro-Derma are:

Zinc, Copper and Vitamin D

 

– Contribute to the healthy function of the immune system.
Vitamin B12 and Folic acid - 

 

Contribute to a reduction in tiredness and fatigue.

 

 

HOW DO I TAKE IT?

Pro-DEFEND is presented in an easy to swallow capsule. Each capsule provides 10 billion good bacteria.  The initial suggested dose for adults and children over the age of ten is one capsule twice per day with food for up to two weeks.  A maintenance dose of one capsule per day can then be taken.  For best results use daily.

Always take this capsule with food, as zinc supplements taken on an empty stomach can very occasionally cause nausea.

WHAT IS THE MICROBIOME?

There are millions of bacteria inside each person, forming an internal world which is often referred to as 'The Microbiome'.   There is currently a huge amount of ongoing research dedicated to investigating the many ways the microbiome could influence health and wellbeing. Furthermore, many scientists believe that each bacterium has a different role to play.  The Natures Aid Microbiome Range is based on this research, using specific bacteria combined with selected nutrients to create targeted formulas.
Nutrition Info

| Nutritional Information | Amount | NRV |
| --- | --- | --- |
| Per capsule |   | %NRV |
| Zinc | 5mg | 50 |
| Copper | 500ug | 50 |
| Vitamin D3 | 5ug | 100 |
| Folic Acid | 200ug | 100 |
| Vitamin B12 | 50ug | 2000 |
| Bacteria Culture | 39mg | * |
| Typically providing 10 billion organisms: |   |   |
| Lactobacillus Plantarum | 11mg |   |
| Lactobacillus Acidophilus | 17mg |   |
| Bifidobacteria Animalis subsp. Lactis | 11mg |   |

NRV = Nutrient Reference Value

* = No NRV assessed
Ingredients

Vegetable capsule shell (Cellulose), Microcrystalline Cellulose, Maltodextrin, Anticaking Agents (Silicon Dioxide,
Vegetable Source Magnesium Stearate).
Dosage

Treatment dose: 1 capsule twice a day with food, for up to 2 weeks. Maintenance dose: 1 capsule per day with food. Children over 10 years: Take 1 capsule per day with food. Do not exceed the recommended intake.
Allergens