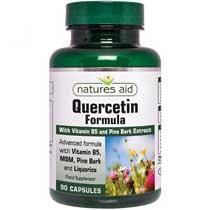 An advanced formula with Vitamin B5, MSM, Pine Bark and Liquorice.
Packing / Suggested Retail Price
90 Vcaps (code:128330) - 34,08€
Description

Quercetin is a flavenol found in many fruits and vegetables. Quercetin supplements are often sold to naturally support health. This complex provides 250 mg of quercetin per 2 tablets. In this complex there is also: Vitamin C (as Ester C) 150mg – this has been included to support the normal functioning of the immune system and the reduction of tiredness & fatigue Vitamin B5 100mg – to contribute to the normal synthesis of steroid hormones. The complex also contains the following supportive ingredients, which all have a long history of use in natural medicine: MSM – 250mg; Pine Bark Extract – 50mg and Liquorice extract equivalent to 250mg.

*This product contains liquorice.  You should not take liquorice products if you have high blood pressure (hypertension) or are taking high blood pressure medication.  
Nutrition Info

Per 2 Capsules:

| Nutritional Information | Amount | NRV |
| --- | --- | --- |
| Ester-C® | 197mg | * |
| Providing Vitamin C | 150mg | 188 |
| Pantothenic Acid (B5) | 100mg | 1667 |
| Quercetin | 250mg | * |
| MSM (Methyl Sulphonylmethane) | 250mg | * |
| Pine (Pinus massoniara) Bark Extract equivalent to dried bark | 50mg | * |
| Liquorice (Gycyrrhiza glabra) root extract |   |   |
| Equivalent to dried root | 250mg | * |
Ingredients

Cellulose, Maltodextrin, Microcrystalline Cellulose, Anticaking Agents (Vegetable Source Magnesium Stearate, Silicon Dioxide)
Dosage

Take 2 capsules per day with food.
A food supplement for adults only.
Do not exceed the recommended intake
Allergens