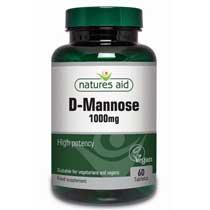 Naturally occuring sugar.
Packing / Suggested Retail Price
60 tablets (cod:144920) - 34,32€
Description

D-Mannose is a simple sugar which naturally occurs in the body. It is also commonly found in Cranberry.

Taking D-Mannose in tablet form obviously provides a much higher dose than would be naturally found in food, or in cranberry supplements. For this reason, D-Mannose has gained a lot of popularity as a food supplement.

Natures Aid D-Mannose tablets are gluten free and suitable for vegans.

Each tablet provides 1000mg D-Mannose.
Nutrition Info

Per tablet

| Nutritional Information | Amount |
| --- | --- |
| D-Mannose | 1000mg |
Ingredients

Microcrystalline Cellulose, Dicalcium Phosphate Dihydrate, Colloidal Silicon Dioxide, Vegetable source Magnesium Stearate.
Dosage

Initial dose: Take 1-3 tablets every 3 hours.

Maintenance dose: After 3 days reduce to 1-3 tablets twice a day.
Allergens