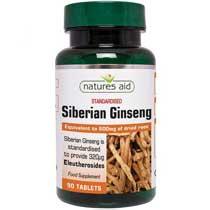 Each Natures Aid Siberian Ginseng tablet provides an extract equivalent to 400mg of Eleutherococcus senticosus root standardised provide 320μg of eleutherosides.
Packing / Suggested Retail Price
90 Tabs (cod:10120) - 14,69€
Description

Each Natures Aid® Siberian Ginseng tablet provides 40mg Siberian Ginseng (Eleutherococcus senticosus) Root extract – equivalent to 600mg of dried root. Standardised to provide 320ug Eleutherosides.

Siberian Ginseng is a plant commonly found in Siberia, as well as in parts of China and Korea. It is believed to have a wide range of health benefits. Often called "Russia"s secret plant", Siberian Ginseng was used by the sporting fraternity as well as Russian cosmonauts. It also has a long history of use in Chinese traditional medicine.
Nutrition Info

Per tablet:

Nutritional Information
Amount
NRV
Siberian Ginseng (Eleutherococcus senticosus) Root extract
40mg
*
standardised to provide 320µg eleutherosides
Ingredients

Di-Calcium Phosphate, Microcrystalline Cellulose, Anticaking Agent (Vegetable Source Magnesium Stearate).
Dosage

Take 1-2 tablets per day.
Do not exceed recommended intake.
Allergens