Mushroom Complex (Organic)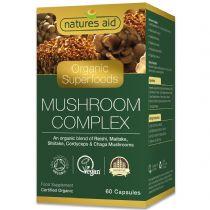 An Organic blend of Reishi, Maitake, Shiitake, Cordyceps & Chaga Mushrooms.
Packing / Suggested Retail Price
60 vcaps (code:141720) - 32,83€
Description

Natures Aid Organic Mushroom complex contains a blend of 5 Mushrooms: Shiitake, Reishi, Maitake, Chaga & Cordyceps.

Suitable for vegetarians and vegans
Ingredients

Vegetable Capsule Shell (hydroxypropylmethylcellulose)*, Organic Reishi Mushroom Powder, Organic Maitake Mushroom Powder, Organic Shiitake Mushroom Powder, Organic Cordyceps Mushroom Powder and Organic Chaga Mushroom Powder.

*Non-Organic Material
Dosage

Take 2 capsules per day with a glass of water. Alternately, pull apart the capsules and sprinkle contents into juice, shakes, smoothies, soup or yoghurt. Do not exceed the recommended intake.
Allergens