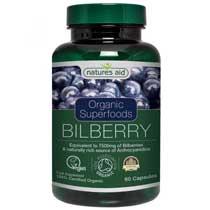 A naturally rich source of Anthocyanidins, in an organic spirulina base.
Packing / Suggested Retail Price
60 vcaps (cod:144820) - 28,66€
Description

Bilberries are native to Europe, where their fruits are eaten fresh or made into jams, fools, juices or pies.  In France and Italy they are a popular base for liqueur and sorbets.

It was, however, tales of RAF pilots consuming Bilberry jam during World War II which led to the interest in Bilberry as a food supplement.

Natures Aid Organic Bilberry capsules provide a 75mg organic bilberry extract, in an organic spirulina base.  Each capsule is standardised to provide 18.75mg anthocyanidins and supply bilberry extract which is equivalent to 7500mg dried organic bilberry.

Pure fill capsule, with no fillers or binders.
Nutrition Info

Per capsule:

| Nutritional Information | Amount |
| --- | --- |
| Bilberry (Vaccinium myrtillus) Berry Extract | 75mg |
| Equivalent to dried berry | 7500mg |
| Standardised to provide 18.75mg anthocyanosides |   |
| Organic Spirulina | 190mg |
Ingredients

Organic Spirulina, Organic Bilberry Extract, Vegetable capsule shell (Hydroxypropylmethylcellulose)*

*Non-organic material
Dosage

Take 1-2 Capsules per day with food. Do not exceed suggested intake.
Allergens