Women 50+ Multi-Vitamins & Minerals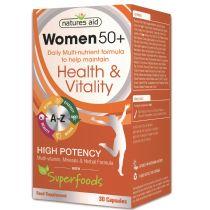 Packing / Suggested Retail Price
30 capsules (code:136810) - 19,44€
Description

Natures Aid Women's 50+ multi-vitamin and minerals contains 35 carefully selected ingredients for everyday maintenance of good health for women aged 50 and above.

Suitable for vegetarians and vegans
Nutrition Info

Per capsule

Nutritional Information
Amount
%NRV

Vitamin A 

Vitamin D3 

Vitamin E 

Vitamin K2 

Vitamin C 

Thiamin (B1) 

Riboflavin (B2) 

Niacin (B3) 

Vitamin B6 

Folic Acid 

Vitamin B12 

Biotin 

Pantothenic Acid (B5) 

Calcium 

Magnesium 

Iron 

Zinc 

Copper 

Manganese 

Selenium 

Chromium 

Iodine 

Siberian Ginseng 

Bamboo Silica 

Soya Isoflavones 

Green Tea 

Lutein Esters 

Organic Vita Veggie 

Acai Fruit Powder 

Sage Extract 

800μg 

10μg 

15mg

50μg 

80mg 

10mg 

10mg 

10mg 

10mg 

400μg 

10μg 

50μg 

12mg 

50mg 

100mg 

2mg 

10mg 

1mg 

1mg 

55μg 

40μg 

150μg 

20mg 

20mg

20mg

20mg

2mg

100mg

20mg

10mg

100

200

125

67

100

909

714

63

714

100

400

100

200

6

27

14

100

100

50

100

100

100

*

*

*

*

*

*

*

*

NRV = Nutrient Reference Values
Ingredients

Magnesium Oxide, Hydroxypropylmethylcellulose, Calcium Carbonate, Organic Vita Veggie (Organic Broccoli, Organic Broccoli Sprouts, Organic Tomato, Organic Carrot, Organic Spinach, Organic Kale), Vitamin C (as Ascorbic Acid), Soya Isoflavones Extract (Non GM), Zinc Picolinate, Bamboo Silica, Magnesium Citrate, Calcium Citrate, Acai Fruit Prep. (Acai Fruit, Citric Acid), Green Tea Extract, Siberian Ginseng Root Extract, Vitamin E (as d-Alpha Tocopherol Acid Succinate), Pantothenic Acid (as Calcium Pantothenate), Thiamin (as Hydrochloride), Vitamin B6 (as Pyridoxine Hydrochloride), Riboflavin, l-Selenomethionine Prep. (l-Selenomethionine, Di-Calcium Phosphate), Niacin (as Nicotinamide), Lutein Prep. (Lutein Esters, Maltodextrin), Sage Extract, Manganese Gluconate, Vitamin A Acetate Prep. (Corn Starch, Gum Arabic, Vitamin A Acetate, DL-Alpha Tocopherol, Tricalcium Phosphate), Copper Gluconate, Ferrous Fumarate, Vitamin D3 Prep. (Medium chain triglycerides, Cholecalciferol), Vitamin K2 Prep (Glycerol Monostearate, Ascorbyl Palmitate, Vitamin K2 (MK7), Rosemary Extract), Vitamin B12 Prep. (Cyanocobalamin, Calcium Phosphate), Folic Acid, Chromium Picolinate, Potassium Iodide, D-Biotin.

 

For allergens see ingredients in bold.
Dosage

Take 1 capsule per day with food.

Do not exceed the recommended intake.
Allergens