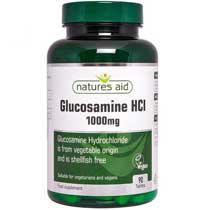 Glucosamine Hydrochloride is from vegetable origin and is shellfish free.
Packing / Suggested Retail Price
90 tabs (code:128730 ) - 24,72€
Description

Glucosamine is an amino sugar, meaning it is made from a protein molecule mixed with a sugar molecule. It occurs naturally in the body, although production may decrease with age. Glucosamine is not easily obtained from food sources, so supplements provide a safe and easy way to top up.

Many Glucosamine supplements are sourced from shellfish, Natures Aid® Glucosamine HCI is from vegetable origin (produced by fermentation) and is free from shellfish and is suitable for vegetarians and vegans.

Each Natures Aid Glucosamine HCl tablet provides 1000mg Glucosamine HCl.
Nutrition Info

Per Tablet:

| Nutritional Information | Amount | NRV |
| --- | --- | --- |
| Glucosamine Hydrochloride | 1000mg | * |
Ingredients

Microcrystalline Cellulose, Anticaking Agent (Vegetable Source Magnesium Stearate).
Dosage

Take 1 tablet per day with food.

Do not exceed the recommended intake
Allergens