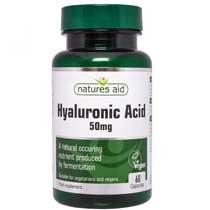 Each Natures Aid Hyaluronic Acid capsule contains 50mg of Hyaluronic Acid. Hyaluronic acid is the major water-holding molecule of the body.
Packing / Suggested Retail Price
60 Vcaps (code:126720 ) - 31,15€
Description

Hyaluronic Acid, occurs naturally in the body and is widely distributed throughout connective tissues, Synovial Fluids, the Skin and the Eyes. Hyaluronic Acid is a water loving molecule which is used in many beauty and skin care products. It is also included in tear substitutes used by people suffering with 'dry eye'. Natures Aid Hyaluronic Acid is a naturally occurring nutrient produced by fermentation and is suitable for vegetarians and vegans. Each Natures Aid Hyaluronic Acid capsule provides 50mg Hyaluronic Acid.
Nutrition Info

Per capsule:

| Nutritional Information | Amount |
| --- | --- |
| Hyaluronic Acid  | 50mg |
Ingredients

Di-Calcium Phosphate, Cellulose, Anticaking Agents (Vegetable Source Magnesium Stearate, Silicon Dioxide).
Dosage

Take 1-3 capsules per day with food.
Drink plenty of fluids to maximise benefit.

Do not exceed the recommended intake.
Allergens