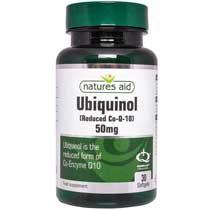 Stable researched form of Ubiquinol Natures Aid Ubiquinol provides 50mg of Kaneka QH™ in an easy to swallow capsule. The combination of Co- Q-10 with oil has been shown in trials to be most effective. These formulations are also free from hydrogenated vegetable oil.
Packing / Suggested Retail Price
30 Softgels (cod:129210) - 31,92€
Description

One of the most important Co-Enzymes is Co-Enzyme-Q10. This substance plays a critical role in the creation of cellular energy. It is critical to the cellular ATP (energy) production cycle. Most Co-Q-10 supplements are in the form of Ubiquinone.

Ubiquinone has to be converted into Ubiquinol by the body. Starting at age 30, the body has a harder time converting Ubiquinone into Ubiquinol and this process gets less efficient as we age. Until 10 years ago all Co-Q-10 supplements were made with Ubiquinone, as Ubiquinol was not stable outside the body. This problem was overcome by a company called Kaneka, who developed a unique, stabilised, patented Ubiquinol supplement, called KanekaQH Ubiquinol. KanekaQH Ubiquinol is the only stable Ubiquinol supplement on the market.

Natures Aid Ubiquinol is made using the patented, stabilised KanekaQH Ubiquinol and provides a full 50mg Ubiquinol per capsule.
Nutrition Info

Per softgel:

| Nutritional Information | Amount | NRV |
| --- | --- | --- |
| Ubiquinol (Kaneka QHTM) Reduced Co-Enzyme Q-10 | 50mg | * |
Ingredients

Canola Oil, Gelatin, Diglyceryl Monooleate, Glycerin, Beeswax, Caramel Liquid, Soya Lecithin (Non GM).
Dosage

Take 1 soft gel twice per day with food.
Do not exceed the recommended intake
Allergens