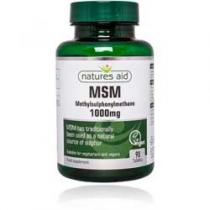 Methylsulphonylmethane 1000mg.
Packing / Suggested Retail Price
90 tablets (cod:19630) 19,00€
Description

Natures Aid Methylsulphonylmethane 1000mg. MSM is a rich naturally occurring source of sulphur which is required for the structure and function of 150 compounds within the body, including tissues, enzymes, hormones, antibodies and antioxidants. Sulphur supplementation originated with Robert Herschler, a biochemist who patented 'Dietary and pharmaceutical uses of methylsulfonylmethane and compositions comprising it' in 1982; he claimed that MSM had many different potential benefits. MSM is sold as a dietary supplement often in combination with glucosamine and/or chondroitin. Each Natures Aid MSM tablet provides 1000mg MSM and is suitable for vegetarians and Vegans.
Nutrition Info

Per 2 Tablets:

| Nutritional Information | Amount | NRV |
| --- | --- | --- |
| MSM | 2000mg | * |
Ingredients

Anticaking Agents (Silicon Dioxide, Vegetable Source Magnesium Stearate).
Dosage

Take 1 tablet twice per day with food.
To obtain maximum benefit from this nutritional supplement, the initial dose can be increased gradually up to 3 tablets twice per day with food.
Do not exceed the recommended intake.
Allergens