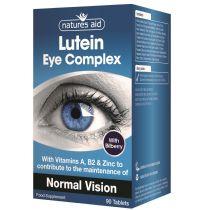 For the maintenance of normal vision
Packing / Suggested Retail Price
30 tablets (code:123910) - 16,37€
Description

Natures Aid Lutein Eye Complex with Bilberry contains Vitamins A, B2 (Riboflavin) and Zinc which contribute to the maintenance of normal vision.

Riboflavin, Vitamin A and Zinc contribute to the maintenance of normal vision

Suitable for vegetarians and vegans
Nutrition Info

Per tablet

Nutritional Information
Amount
%NRV

Lutein Esters

Equivalent to free Lutein

Bilberry (Vaccinium myrtillus) extract

Equivalent to dried berries

Mixed Carotenoids

typically providing:

   Beta Carotene

   Equivalent to Vitamin A

   Alpha Carotene

   Other Carotenoids (including Cryptoxanthin, Zeaxanthin and Lutein)

Vitamin E

Vitamin C

Riboflavin (B2)

Niacin (B3)

Vitamin B6

Zinc

Copper

Selenium

Rutin

Alpha Lipoic Acid 

20mg

10mg

5mg

500mg

3mg

 

2.84mg

473µg

105µg

60µg

34mg

100mg

5mg

10mg

5mg

10mg

0.5mg

25µg

50mg

50mg

*

*

*

*

*

 

*

59

*

*

283

125

357

63

357

100

50

45

*

*

NRV = Nutrient Reference Values
Ingredients

Microcrystalline Cellulose, Di Calcium Phosphate, Vitamin C Prep, (Ascorbic Acid, Hydroxypropylmethylcellulose), Lutein Prep, (Lutein Esters, Maltodextrin), Rutin, Alpha Lipoic Acid, Zinc Picolinate, Anticaking Agent (Vegetable Source Stearic Acid), Natural Vitamin E (as d-alpha Tocopheryl Acid Succinate), Anticaking Agent (Silicon Dioxide), Sodium Carboxymethylcellulose, Mixed Carotenoids Prep (Dextrose, Mixed Carotenoids, Algae extract, Silicon Dioxide, Tocopherol, Tri Calcium Phosphate), Niacin (as Nicotinamide), Anticaking Agent (Vegetable Source Magnesium Stearate), Vitamin B6 (as Pyridoxine Hydrochloride), Riboflavin, Bilberry Extract, l-Selenomethionine, Copper Gluconate.
Dosage

Take 1 tablet per day with food.

Do not exceed the recommended intake.

Pregnant and breastfeeding women should consult a doctor before taking this product.
Allergens