Super Strength Fish Oil (Omega-3)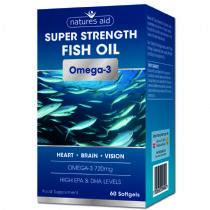 Packing / Suggested Retail Price
60 capsules (cod:129620) 20,74€
Description

Natures Aid Super Strength Fish Oil provides a highly concentrated and purified form of Omega-3 essential fatty acids EPA and DHA for the maintenance of normal function of the heart, brain and vision.

Each 1200mg Fish Oil capsule provides a total of 707mg of Omega-3 Essential Fatty Acids, including 388mg EPA and 260mg DHA as triglycerides (TG)

EPA and DHA contribute to the normal function of the heart
DHA contributes to maintenance of normal brain function
DHA contributes to the maintenance of normal vision

 

PURITY GUARANTEE

Natures Aid Super Strength Omega-3 is sourced from small oily fish; Anchovies, Sardines and Pilchards from the South Pacific Ocean.  Natures Aid Fish Oil has been molecularly distilled to remove pollutants such as heavy metals (including mercury), dioxins and PCB's to ensure ultimate purity.
Nutrition Info

Per softgel

Nutritional Information
Amount
%NRV

Pure Fish Oil

Typically providing:

  Eicosapentaenoic Acid (EPA)

  Docosahexaenoic Acid (DHA)

  Other Omega-3's

1200mg

 

388mg

260mg

59mg

*

 

*

*

*

NRV = Nutrient Reference Values
Ingredients

Pure Fish Oil, Gelatin (Bovine), Glycerine, D-Alpha Tocopherol.

For allergens see ingredients in bold.
Dosage

Take 1-3 softgels per day

Do not exceed the recommended intake.
Allergens