PRO-30 Max (30 Billion Daily Probiotic)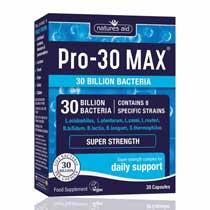 8 Strain daily probiotic.
Packing / Suggested Retail Price
30 Vcaps (code:136310) - 29,38€
60 Vcaps (code:136320) - 57,79€
Description

Natures Aid PRO-30 Max is a super strength daily probiotic containing 8 strains of bacteria. Each daily capsule contains a guaranteed 30 billion live organisms, using 8 extensively researched strains of bacteria, including 4 strains of Lactobacillus.

STABILITY

Natures Aid PRO-30 Max bacteria have been micro-encapsulated to enhance stability and guarantee 30 billion live bacteria per capsule at the end of the shelf-life. Refrigeration is optional.

Suitable for vegetarians and vegans
Nutrition Info

Per capsule

Nutritional Information
Amount
%NRV

Probiotic Culture

Typically providing 30 billion live organisms of:

  Lactobacillus acidophilus

  Lactobacillus plantarum

  Lactobacillus casei

  Lactobacillus reuteri

  Bifidobacterium bifidum

  Bifidobacterium lactis

  Bifidobacterium longum

  Streptococcus thermophiles

150mg

 

 

 

 

 

 

 

 

 

*

 

 

 

 

 

 

 

 

 

NRV = Nutrient Reference Values
Ingredients

Microcrystalline Cellulose, Probiotic prep (Lactobacillus acidophilus, Lactobacillus plantarum, Lactobacillus casei, Lactobacillus reuteri, Bifidobacterium bifidum, Bifidobacterium lactis, Bifidobacterium longum, Streptococcus thermophilus, Maltodextrin), Cellulose, Anticaking Agents (Silicon Dioxide, Vegetable Source Magnesium Stearate).
Dosage

Take 1 capsule per day.

Do not exceed the recommended intake
Allergens